Booking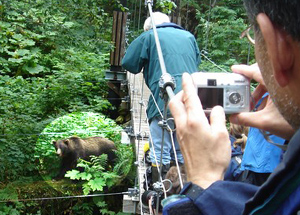 Fishing Bear Charters
P.O. Box 56
Tenakee Springs, AK 99841
(907) 736 2350
Send Me a Text? 425-457-1908
During your stay with us, you will feast on fish, crab and prawns fresh from the cold Alaskan waters to the vessel galley. After a leisurely meal you will have time to enjoy the natural hot springs in a Japanese style bath.
We suggest that you bring clothing suitable for 50 - 70 degree weather, rubber boots and waterproof shoes are also recommended. Don't forget your sunglasses, sunscreen and a camera with plenty of film!
Our prices include accommodations, all meals, fishing tackle, bait and fish processing and freezing of the first 50 pounds of fish per person.
The rates for your Dream Alaska Vacation are just
1,000.00 per person per day
This is the Alaska Vacation you have always dreamed of. Up close and personal with the very best accommodation, food, fishing and wildlife viewing all in one of the most beautiful places in the world.
Come experience the very best Alaska has to offer. Contact us today and start planning that vacation that you deserve.
Fishing Bear Charters
P.O. Box 56
Tenakee Springs, AK 99841
(907) 736 2350
Contact us by phone or complete our Booking Request Form below. For general inquires, please complete our Contact Form instead.
Booking Request Form
Please Note: fields marked with a red * asterisk are required.
Watch Video Below!

Fishing Bear Charters
P.O. Box 56
Tenakee Springs, AK 99841